Written by William Yiu
Original post on South China Morning Post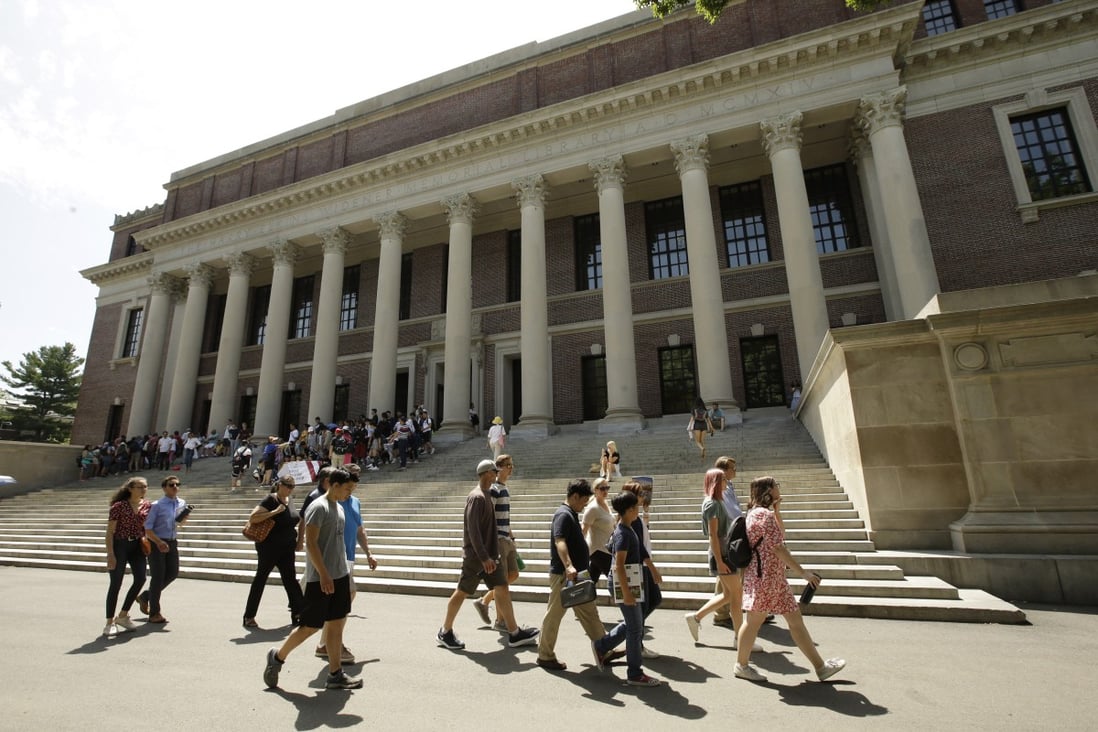 Students walk past Widener Library at Harvard University in 2019. Photo: AP
A record low of only 280 Hong Kong university students went on exchange programmes overseas or to mainland China in the last academic year, as Covid-19 travel restrictions wrecked plans for these much sought-after trips.
That was 95 per cent fewer than the 5,391 students who spent time away in 2019-20 and the record high of nearly 6,700 in 2018-19.
Although Hong Kong universities worked with institutions elsewhere to provide virtual exchange programmes, students said these paled in comparison with visiting a new destination and getting to know the people and culture there.
Some universities have begun restarting their exchange trips, with more students likely to go this year even though strict travel restrictions remain.
The latest figures for exchange students were announced in December by the University Grants Committee, which funds public institutions of higher education.
Hong Kong universities have been expanding opportunities for undergraduates to spend a semester or a full academic year at another university, while continuing to pay the local tuition fee.
Students apply to universities all over the world, especially in the United States, Britain, Japan and mainland China, which have exchange partnerships with local institutions.
For many, the time away allows them to learn to be more independent, improve their language proficiency, make new friends and experience the culture of the place they are visiting.
But the pandemic has continued to disrupt travel for everyone since 2020, particularly with Hong Kong's strict requirement for arrivals from most places to undergo 21 days of quarantine.
Most universities switched to virtual exchange programmes, which meant students remained in Hong Kong but attended online lectures and seminars at institutions elsewhere.
Various other activities on culture, social skills, leadership and career development enabled them to make friends despite being separated by long distances.
Chinese University (CUHK) said 1,400 of its undergraduates enrolled in its Virtual Student Exchange programme, organised since August 2020 and involving 61 institutions belonging to the Association of Pacific Rim Universities.
In an opinion piece published in the Post last month, CUHK president Rocky Tuan Sung-chi said the virtual programme had the potential to make global education accessible to anyone with an internet connection, "rather than merely to those privileged few with financial means to jump on a plane and spend up to a year in a foreign land".
Competition is keen for exchange trips, as applicants must have a good academic track record and meet the language requirements at the universities they hope to go to.
Not everyone can afford an exchange either. Students have to cover the cost of their air tickets, accommodation, meals, insurance and visa fees themselves. For those who choose universities in the US, the most expensive choice, this can add up to about HK$100,000 (US$12,840) per semester.
Kristen Cheung, a fourth-year English major at CUHK, considered herself fortunate enough to attend a two-week exchange programme at Yale University in the US in 2020, before it was suspended because of Covid-19.
She did not think a virtual programme could compare.
"Students joining an exchange programme aim not only to study, but also to visit the host country and get to know people from different backgrounds. All these experiences cannot be provided in a virtual programme," she said.
Cheung said some students she knew who joined the virtual programme did so only to polish their resume and were not serious during the online classes.
Alex Lau, a second-year sociology major at CUHK, took part in a two-month summer virtual exchange programme with a Japanese university and had mixed feelings about it.
There were online lectures twice a week, from 11am to 3pm, with optional cultural activities in small group sessions.
He said the programme helped him meet more people from Taiwan, mainland China, North America and Japan, but he missed out on experiencing the country and the social environment.
"If you just want to get to know people from different places and join something for free, you could go for it," he said.
Now he is counting on travelling to Britain next year for an exchange programme at University College London, so that he can soak up the atmosphere and join in various activities.
Some universities said their students were beginning to make plans for exchange trips this year.
A spokesman for Education University said fully vaccinated students could go on these trips, but it would still offer virtual exchange programmes that included online immersion programmes, online courses, seminars and cultural exchange activities.
For its students preparing to teach English and Chinese language, attending a course overseas or on the mainland was compulsory to help them improve their language proficiency and learn about the culture and education system there.
The University of Science and Technology and Lingnan University said they had resumed sending students on exchange programmes since the second term this year. Both also offer virtual programmes as an alternative.
City University also said it had resumed the physical programme in the 2020-21 academic year "under safe conditions".
Polytechnic University said its students were able to go on exchange trips to limited destinations such as the mainland, Australia or New Zealand during the earlier stages of the pandemic, or opt for the virtual programme.