The Asia-Pacific Women in Leadership (APWiL) Mentoring Program was launched on October 30 with a virtual kick-off meeting hosted by the APRU secretariat in Hong Kong.
Participants charted out expectations for the year-long pilot program, which aims to match a mentor and mentee from one of the participating APRU member universities in order to provide aspiring women academics international and intercultural opportunities for the empowerment and development within APRU.  The APWiL Mentoring Program Pilot was initiated following the release of the 2019 APRU Gender Gap Report flagging that females remain under-represented in university leadership positions, with the 2013-19 period producing little tangible improvement.
The APRU APWiL is led by co-chairs Sabrina Lin, Senior Advisor to the HKUST President, and Joanna Regulska, Vice Provost and Dean of Global Affairs at UC Davis.
The virtual kick-off meeting was held in breakout group discussions on topics related to strong supportive networks of women leaders, strategic planning, goal setting, career development, effective leadership skills, opportunities for collaboration and interdisciplinary research, as well as work-life balance.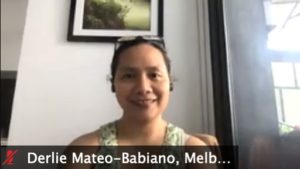 "We are discussing the lack of female leaders in our own academic context and the associated lack of models to look up to," said Derlie Mateo-Babiano, Senior Lecturer in Urban Planning at the University of Melbourne, in the kick-off meeting.
"Although involvement in programs such as APRU has been helping many of us in joining supportive networks of female leaders, we have found that the theories behind these efforts too often still do not fully work in the Asian context," she added.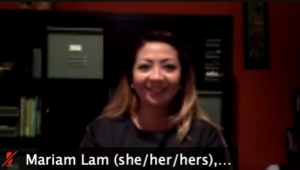 Similarly, Mariam Lam, Vice Chancellor and Chief Diversity Officer at University of California, Riverside, emphasized the urgency of promoting the ideas of mentorship, encouragement, sponsorship, and patronage.
"Make sure we are using this format of sisterhood and shouting out to other women to get a woman into that next space that opened up," Lam said.
"We have to nudge women sometimes, given that there often are existing access points to those spaces," she added.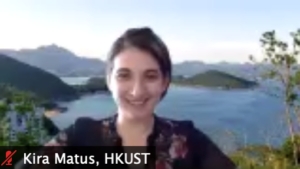 Kira Matus, Associate Head in the Division of Public Policy at HKUST, for her part, criticized that women are often placed in leadership and committee positions simply because people feel that there should be a woman visible as opposed to reflecting a holistic approach. According to Matus, a holistic approach involves both having women champions at the higher level and many small wins at the bottom.
"We have to tackle tasks such as family friendliness in schools and campuses and parental leave to make inclusivity more holistic," Matus said.
APWiL provides for mentors and mentees developing a mentoring agreement, identifying goals for the program and meeting virtually throughout the year. Mentors may be men or women leaders at a participating institution who are interested in supporting the growth of aspiring women leaders at APRU institutions.
Participating APRU members are Keio University; Osaka University; The Chinese University of Hong Kong; HKUST; The University of British Colombia; The University of Sydney; University of California, Davis; University of California, Los Angeles; University of Malaya; and UNSW Sydney.
The mentor-mentee pairs are:
Maureen Kinyua, Assistant Professor, Department of Civil and Environmental Engineering, College of Engineering, UC Davis (Mentee)
Natalie Munro, Associate Professor, School of Health Sciences, University of Sydney (Mentor)
Jessica Bissett Perea, Assistant Professor, Department of Native American Studies, College of Letters and Science, UC Davis (Mentee)
Yvonne Ai-Lian Lim, Director, Department of Parasitology, University of Malaya (Mentor)
Kira Jen Mendelsohn Matus, Associate Professor, Division of Public Policy, Division of Social Science, and Division of Environment and Sustainability, Hong Kong University of Science and Technology (Mentee)
Louise Ferguson, Professor and Extension Specialist, Department of Plant Sciences, College of Agricultural and Environmental Sciences, UC Davis (Mentor)
Joy Becker, Associate Professor, Aquatic Animal Health and Production, University of Sydney (Mentee)
Christopher Glick, Assistant Dean, Development and External Relations, College of Agricultural and Environmental Sciences, UC Davis (Mentor)
Azusa N. Hattori, Associate Professor, Division of Public Policy, Division of Social Science, and Division of Environment and Sustainability, Osaka University (Mentee)
Stephan Tillman, Professor, Geometric Topology, University of Sydney (Mentor)
Charmaine C.M. Yung, Assistant Professor, Department of Ocean Science, Hong Kong University of Science and Technology (Mentee)
Masae Kuboniwa, Associate Professor, Department of Preventive Dentistry, Osaka University (Mentor)
Derjung Mimi Tarn, Associate Professor, David Geffen School of Medicine, and University of California systemwide University Committee on Library and Scholarly Communication, UCLA (Mentee)
Keiko Okawa, Professor, Graduate School of Media Design; Research Institute for Digital Media and Content; School on Internet Research Institute Co., Ltd., Keio University (Mentor)
Hang Fang Carole Hoyan, Associate Professor, Department of Chinese Language and Literature; the Yale-China Chinese Language Centre, Chinese University of Hong Kong (Mentee)
Christine Dunkel Schetter, Professor, Psychology and Psychiatry; Faculty Development, UCLA (Mentor)
Hisayo Ogushi, Professor, Dean, Keio University International Center, Keio University (Mentee)
Fanny Cheung, Senior Advisor, Faculty of Social Science, Chinese University of Hong Kong (Mentor)
Mihoko Maruyama, Associate Professor, Institute for Advanced Co-Creation Studies, Osaka University (Mentee)
Haibin Su, Associate Professor, Department of Chemistry, Hong Kong University of Science and Technology (Mentor)
Nazia Abdul Majid, Lecturer, Genetics and Molecular Biology, University of Malaya (Mentee)
Mariko Okada, Professor, Institute for Protein Research, Osaka University (Mentor)
Roxanna Pebdani, Senior Lecturer, Discipline of Rehabilitation Counselling, University of Sydney (Mentee)
Sara-Jane Finlay, Associate Vice-Provost, Equity & Inclusion Office, University of British Columbia (Mentor)
Sara Padgett Kjaersgaard, Lecturer, Landscape Architecture, UNSW Sydney (Mentee)
Noor Ismawati Jaafar, Associate Professor, Faculty of Business and Accountancy, University of Malaya (Mentor)
Suat Yan Lai, Senior Lecturer, Gender Studies Program, Faculty of Arts and Social Sciences, University of Malaya (Mentee)
Helene Hoi-Lam Fung, Professor, Department of Psychology; Centre for Positive Social Science; Institute of Ageing, Chinese University of Hong Kong (Mentor)
Surabhi Chopra, Associate Professor, Faculty of Law at Chinese, University of Hong Kong (Mentee)
Cindy Fan, Vice Provost, International Studies and Global Engagement, UCLA (Mentor)
More information about APWiL Mentoring Program Pilot