The APRU Asia Pacific Women in Leadership (APWiL) program has confirmed its new co-chair, Prof. Yvonne Ai-Lian Lim (former Director of International Relations Office, Universiti Malaya). The appointment period will be for an initial term of three years commencing on 1 September 2022.  The new APWiL Co-Chair is joining Prof. Joanna Regulska (Vice Provost and Dean – Global Affairs and Professor of Gender, Sexuality and Women's Studies at the University of California, Davis).
As her first move of action, the co-chair is engaging in the organization of the 3rd Cohort of the APWiL Mentoring Program and overseeing the strategic framework and direction of the APWiL Program by taking an active role in the development and implementation of program activities to advance gender equity across the APRU network considerably. She brings a unique perspective as she participated in the pilot year of the APWiL Mentoring Program as a mentor.
"It is important that we have a critical pool of women representation in leadership and management as women bring different approaches, dimensions, and perspectives in conflict resolution as well as the art of elegant negotiation and diplomacy," says Yvonne Lim.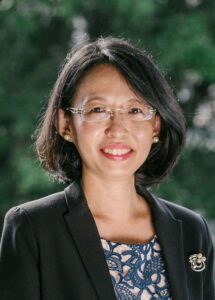 Yvonne Lim is a professor at the Department of Parasitology, Faculty of Medicine, Universiti Malaya (UM), Kuala Lumpur and a council member of the Academy of Sciences Malaysia (ASM). Her research focuses on host-parasite interactions and the epidemiology and control of neglected tropical diseases primarily among the indigenous communities. Currently, together with researchers at the National Institutes of Health (NIH), USA, her team is further elucidating the role of gut microbiota-helminth association with nutritional status and inflammatory responses. She has published more than 240 scientific papers, 9 book chapters and 3 books. She has supervised more than 30 postgraduate students to completion. She was a visiting fellow at the Department of Veterinary Science, University of Melbourne, Australia and visiting professor at the Department of Molecular Parasitology and Tropical Diseases, Taipei Medical University, Taiwan and the Massachusetts Institute of Technology (MIT). She recently completed her Fulbright Scholar Program at the Laboratory of Parasitic Diseases, National Institute of Allergy and Infectious Diseases (NIAID), National Institutes of Health (NIH), USA.
Prof. Yvonne Lim is taking over leadership from Dr. Sabrina Lin, Senior Advisor to the President at the Hong Kong University of Science and Technology, who will finish her term on 31 October 2022. Dr. Lin guided, in collaboration with Prof. Regulska, APWiL strategy since 2019. She collaborated in creating the two APWiL Mentoring Programs, which have impacted more than 100 professional women from APRU universities. With these programs, APRU reinforces its goal to advance gender equality worldwide.
The Asia Pacific Women in Leadership Program (APWiL) aims to drive change in gender equality while taking into account the various contexts in which this pursuit of gender equity takes place across APRU member universities.