In early November, two orientation programs successfully marked the start of the APRU SDG Education for Global Citizenship program (APRU SDG4GC), involving representatives from APRU member universities, UN agencies and other experts, interacting online with the program's first cohort comprised of 60 students from 28 member universities.
APRU SDG4GC is an intercultural, transdisciplinary and interactive program that fosters global citizenship among students from 60 universities in 19 economies across the Pacific Rim. Lead by Chulalongkorn University and the Chinese University of Hong Kong, and co-designed by four other core-partner universities, in collaboration with the United Nations, the program builds knowledge of global issues among students. With the theme of "Shaping the Future of Health and Wellbeing" this year, the program covers a broad range of topics, including mental health, health equity, health care system, ethics, healthy ageing, and global health.
Bundhit Eua-arporn, President of Chulalongkorn University
(Photo: Chulalongkorn University)
"You have already proved yourself to be pioneers ready to lead the way towards a shared vision of global citizenship," said Bundhit Eua-arporn, President of Chulalongkorn University, in his opening remarks.
"Global citizenship is key in these times when the world is undergoing critical transitions that demand resolution of interconnected challenges," he added.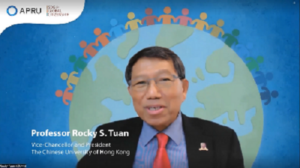 Rocky Tuan, Vice-Chancellor and President of the Chinese University of Hong Kong
(Photo: Chulalongkorn University)
Rocky Tuan, Vice-Chancellor and President of the Chinese University of Hong Kong, revealed that the inaugural class of APRU SDG4GC was completely oversubscribed and congratulated the students for being selected.
Tuan explained that APRU SDG4GC serves to guide students to create solutions to some of the world's biggest challenges through collaboration.
"These challenges have been exacerbated by the pandemic, as the world is faced with an increasingly polarized geopolitical environment which has created all sorts of hindrances for transnational collaboration," Tuan said.
Iwona Spytkowski, Team Leader and Strategic Planner at United Nations in Thailand, provided a snapshot of SDGs progress and explained how the UN system can be leveraged for further improvement. Marisa Panyachiva, Partnership and Development Finance Officer at the Office of the UN Resident Coordinator in Thailand, provided information about the UN's structure and the agency's many funds and programs. Panyachiva explained that the UN draws its unique strengths from working at different levels, from regionally to globally.
Elodie Jacquet, Global Citizenship Program Co-designer who is the Knowledge and Practice Manager at Simon Fraser University's Centre for Dialogue, urged the students to have a spirit of curiosity and open-mindedness. "This is an important skill to have when you will be negotiating with other members of society, different levels of government, and other people that you will interact with in your work," Jacquet said.
Natalie Konomi, Global Citizenship Program Co-designer and Professor at Kyushu University, presented the elements of culture, illustrating how complex and interconnected those are.
On day 2 of the orientation, the panel session entitled "Shaping the Future of Health and Well-Being" was broadcasted widely and raised the question "How can we build a caring and sustainable global community?" Dr. Andrea Bruni, the WHO's Regional Advisor, Mental Health, South-East Asia, shared insights about the new WHO Mental Health Action Plan. Jennifer Frances dela Rosa, a Senior Officer affiliated with the Health Division of ASEAN Secretariat's Human Development Directorate, spoke on social progress and cultural development in the ASEAN region. Hilda Ho, Head of Psychiatry Services, RIPAS Hospital, Ministry of Health, Brunei Darussalam, and Bambang Purwanto, representing the Ministry of Health, Indonesia,  spoke on developments regarding mental health in Brunei and Indonesia respectively. Tiffany Chen, Policy Experimentation Expert, Thailand Policy Lab, UNDP, shared findings from an ongoing case study about mental health issues among Thai youth.
In the next four months, the students will engage in interactive lectures and workshops on design thinking and cross-cultural communication, receive mentorship from experts from the program's core partners, and work in teams to develop a solution to address a challenge on this year's theme. A pitching competition on 20 March 2023 will showcase students' work and will be judged by a panel of UN experts.
The winning team will participate in a week-long visit to Bangkok, with training at Chulalongkorn University's Innovation Hub, field trips to spin-off companies and start-ups, and an opportunity to join a key UN event in Bangkok.
The SDG4GC program is one of many initiatives that APRU is building with its member universities to nurture our youth to make an impact locally and globally to address some of the world's biggest challenges.
Group Photos of the Orientation: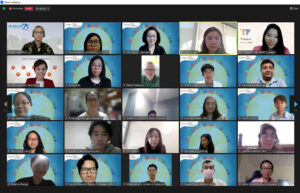 For more information about SDG for Global Citizenship, please visit SDG4GC Website.